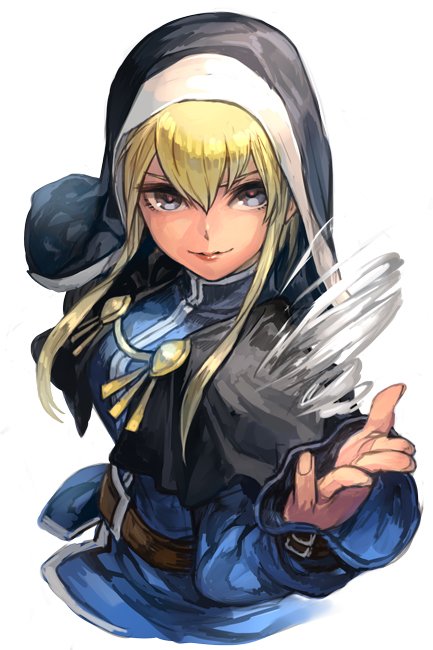 Goeniko (who was used to be visual representation of Seline) design by SNK.
Art
by
Hungry Clicker
Personality:
Aeromancer's personality is a bit like a dark version of

Crystal Maiden
's. She is smiling and cheerful, but a deeply traumatized young woman underneath too. She takes great pleasure in killing her enemies, especially if they are monstrous in appearance. She also speaks to the winds when she is confused or happy with herself and this makes her seem more insane. Despite this she still shows appreciation and respect to many characters and people who help her and it is easy to see that she has good motivations at heart.
Interactions with Other Heroes:
Seline is not kind to her enemies. She will often throw biting insults towards enemies she kills if the are demons like

Shadow Fiend
. She also have a massive amount of hate for

Undying
as he is the agent of the Dead God, and conversely will look forward to fighting with

Anti-Mage
, who she considers the only person to hate the Dead God nearly as much as her. She shows respect to other elemental casters like

Crystal Maiden
,

Sand King
,

Lina
, and the Spirits. She is annoyed by

Invoker
's arrogance, but respects his power. She also is annoyed with

Batrider
, who finds her way too crazy. She has respect for

Omniknight
but says that there are more paths to justice than just the Omniscience and that her time there was not well spent (Seen in the Priestess of the Omniscience set). She also have a somewhat petty relationship with

Windranger
, who she considers the inferior chosen one of wind, but will work with her and even compliment her.
Voice Sample:
Based on Talim from Soul Calibur VI, voiced by Kira Buckland
Equipment Slots (5) and Default:
Head: Seline's Hood
Chest: Seline's Robe
Legs: Seline's Trousers
Arms: Seline's Wrist Buckles
Taunt: None
Set ideas:
Priestess of the Omniscience
Art by SNK
Head: Hood of Purification
Rarity
Rare
While seeking allies to fight the Dead God, Seline found herself following the Omniscience for a time. While they did not give her answers they did give her another hood.
Chest: Gown of Sisterhood
Rarity
Mythical
Though these gowns used to be common, the Sisterhood path had become less popular in the Omniscience as many of the members die on pilgrimage to the cliffs of Emauracus.
Legs: Skirt of the Faithful
Rarity
Uncommon
Every priestess was expected to wear these skirts but it proves difficult not to trip over them.
Arms: Golden Bracelets of the Omniscience
Rarity
Common
These bracelets show devotion to the All Seeing One, though to Seline the Winds of Stone Hill proved more useful.
Standalone Item: Glimmering Robe
Chest: Glimmering Robe

Based on the

Glimmer Cape
item, it features it in an alternate style, as a robe. Has a special effect when using Glimmer Cape active on self on an ally.
An aeromancer needs to sometimes stay out of sight.
Relative Size Comparison:

Check out the original forum version of Seline the Aeromancer here