RANGED

- Support - Nuker - Disabler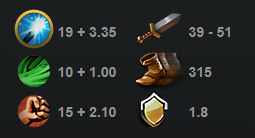 Ishmelga is one of the last descendants of Koryx, a sorceress clan tasked with the protection of an ancient art of magic that calls upon the three primeval elements: Quas, Wex, and Exort. She spent most of her past life travelling around the world finding students to share her craft and continue her Elder's legacy. However, this proved to be an insurmountable task as very few individuals yield the power to harness these ancient elements. Some wizards may be able to call upon a blazing storm but fire itself is just another manifestation of Exort. Others may conjure storms, or winds or blizzards but none can truly call forth the ancient elements and she would abandon these apprentices over the years and move on to the next.
Until one day, she met a boy named Carl. A thirteen year-old mutt from a small village. He was curious and observant child, too prideful for his own good. Ishmelga was drawn to this boy's charm and his penchant for getting his nose on all things he'd like to learn.
She took her in as her 112th apprentice to test if he has the skills. Her efforts bore fruit as the boy was able to connect with the primal elements with ease. While he was unable to call forth the element from within him, he was able to call upon their power tweaking these elemental reagents to create spells that even she could not conjure. She gave her the title Invoker
As the years went on, they grew apart. Carl, being proud of what he has become, went on his own journey to improve himself. He knew his abilities were far beyond that of his master and he knows he is one of if not the most powerful wizard in the world.
Ishmelga, on the other hand, continued her journey. She eventually found a new apprentice. An orphan girl who, like Carl, had the ability to call upon the primal elements. But fate seemed against her, the Invoker caught wind of this new apprentice and decided to strike down the one who would surpass him.
With a howling storm, he descended upon the temple where Ishmelga and her apprentice trained. She tried to protect the child but she did not expect how powerful he has become. It rained fire and brimstone and blood, all of the temple's denizens, including her apprentice, were slaughtered. She was barely able to escape with her life.
The last thing she remembered was crawling through the forest in a futile attempt to escape. One moment she was there and in another she found herself in a corridor, a pathway between two planes. Its guardian stood upon the precipice of the Void. He said, "come and guard my Hidden Temple. You will find the power you seek within its walls. A great conflict is coming, and you are needed to quell what's to come."
Ishmelga accepted the Void's power and guidance knowing she'll be able to exact her vengeance on her wayward apprentice. In return, she swore her servitude to the void in order to bring an end to the coming conflict.